A fluid, collaborative approach during the design and build ensured this sophisticated beachside duplex defied expectations – and earned it a coveted Master Builders Association award.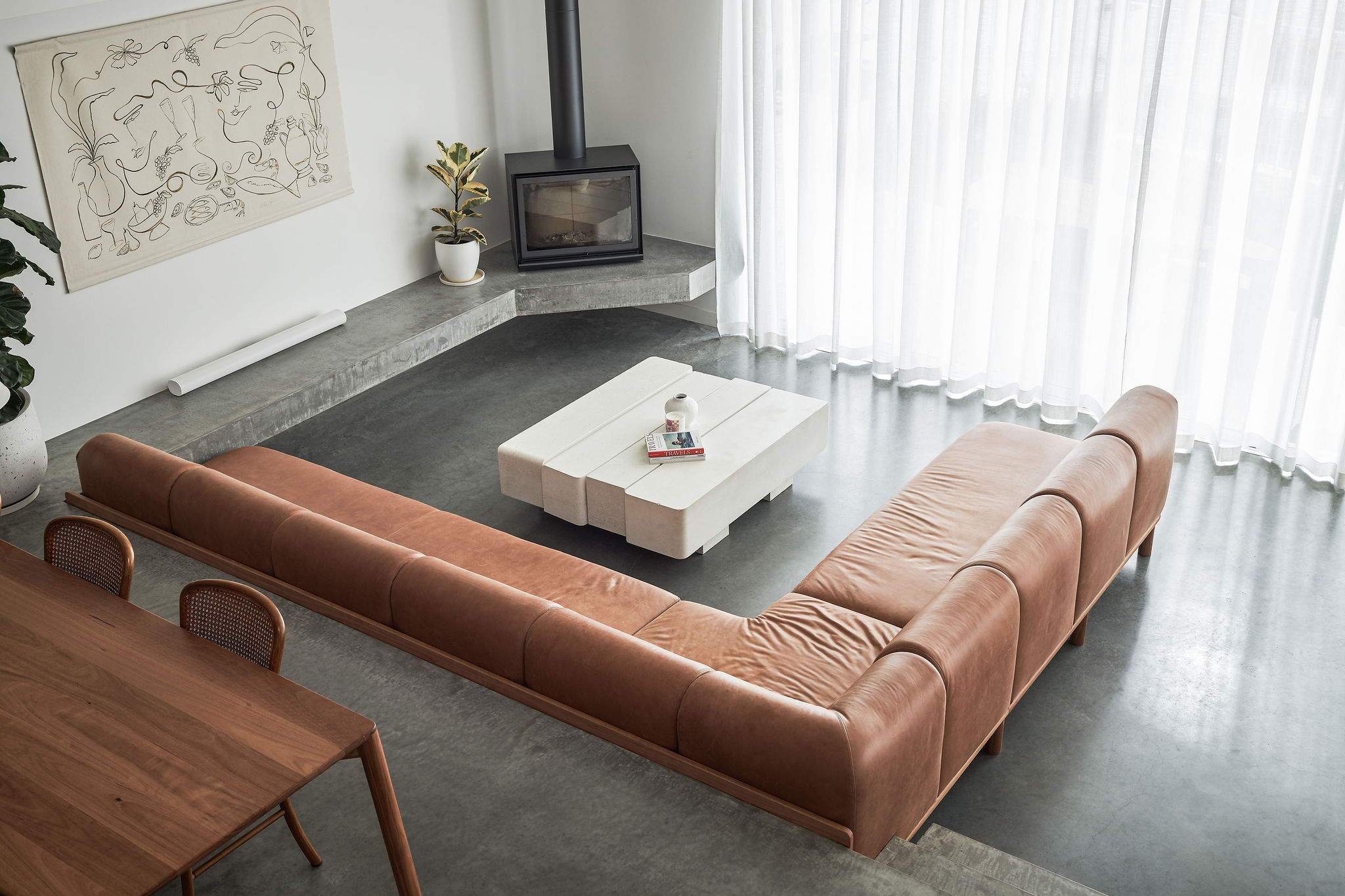 Concept
"We were really conscious that this would be our family home for a long time so we were going for clean lines and timeless elements that would age well." Nick, owner

Set across the road from the beautiful Cabarita Beach, Pandanus Place was designed for a young, energetic family who love connecting with nature.

Owners Nick and Sophie had initially planned a single dwelling on their beachside block but were inspired to consider a duplex after seeing a Berecon project in nearby Pottsville. In consultation with Berecon founder Jeremy Beresford and architect Rachel Norman, Nick and Sophie were delighted to learn that not only was a dual occupancy build a smart financial decision, there would be no need to compromise on size. The solution was to level up with a two-storey, four-bedroom home that maximises living space and sunlight while affording the family privacy.

Nick and Sophie and their three daughters spend a lot of time outdoors, fishing, surfing and enjoying the beach, so their brief to the Berecon team was for a robust home that would require minimal maintenance. It needed to have plenty of breathing room for the growing family and space for effortless entertaining. "For us, the main priority was always for the home to facilitate the way we want to live," Nick explains.

The couple also had a clear vision for how they wanted their home to look: timelessly modern, with a mid-century twist.


---
Finding an Angle

"What I loved about this project was how much trust the clients had in us, hearing ideas and considering things that are a little bit outside the box." Jeremy, builder


With a sloping, parallelogram-shaped block, a poorly placed sewer easement and a busy road frontage, Pandanus Place presented some challenges that Rachel, Jeremy and the Berecon team responded to with creativity.

Capturing light and creating bright, airy spaces can be difficult in a duplex design as there are limited options for windows, but Rachel worked hard to ensure Pandanus Place defied stereotypes. Privacy was paramount at the front, where the master bedroom and ensuite are located, as it overlooks a fairly busy road and the beach beyond. Rachel met this limitation with timber-clad shutters that can be closed to create a "fortress-like" facade when desired and angled open to direct the light when the couple wants to connect to their surrounds.

Rachel also introduced glass bricks on the side walls to usher sunlight into the living spaces without compromising privacy, while a double-height void over the staircase gives the home a lofty feel. The glass bricks were a particularly sentimental detail for Nick, who fondly recalls the retro feature in his grandmother's home.

The sloped block was another challenge that led to an innovative solution. Rather than levelling out the site, Rachel and Jeremy suggested working with the landscape by creating a sunken lounge that flows seamlessly out to the terrace. Nick and Sophie loved the idea and the retro 70s aesthetic, commissioning local furniture builder Martin Johnston to build a bespoke leather wraparound sofa for the space.

At last minute, the local council decided against rerouting the sewer easement, so Rachel quickly redesigned the back terrace and pool area to make the most of an awkward space. Again, Nick and Sophie embraced the change and added a custom outdoor table that mirrors the angled terrace. "They celebrated it and made something special and unique," Rachel says. "It excited them to explore and do things a little bit differently to the norm."

---
Natural Selection

"The use of natural timbers creates a changing, dynamic facade that relates to its environment." Rachel, architect
The duplexes' minimal, Brutalist-style shape could look somewhat imposing from the street, but Jeremy's choice of locally sourced cypress timber cladding softens the modern build's hard edges.

Jeremy chose cypress for its durability – it doesn't need to be sealed and it won't rot, warp or twist – making it a perfect choice for a low-maintenance home. It will also patina beautifully in response to the harsh coastal conditions, weathering to a soft grey over the years.

Longevity is key to Berecon's sustainable building philosophy. "We care about keeping a building's environmental footprint to a minimum, so we had to think about the harshness of living in a coastal environment and work out what will still be here in 100 years and still look like a beautiful piece of art," Jeremy explains.

Inside, the concrete slab flooring is not only a practical choice for a young family, it effectively traps heat, keeping the home passively warm in winter. At the front and sides, concrete breeze blocks modelled off those used in the site's previous home allow sea breezes to waft in from the coast.

Meanwhile, a concrete island bench is the star of the open-plan kitchen; Jeremy and his team used corrugated iron to form a fluted edge and honed it to bring out the beautiful soft colours in the aggregate. On the upper leel, blackbutt timber flooring and terracotta-toned tiling in the ensuite and bathroom deliver warmth, while the timber cladding and breeze blocks ivite sunlight to dance in ever-changing patterns across the surfaces.

---
.
Flow State

"We wanted to create little moments within the house, and all those moments make it a beautiful place to grow up." Rachel, architect


Nick and Sophie are design aficionados who had a strong vision for how they wanted the home to look and feel. They worked closely with Rachel, Jeremy and the Berecon team, who welcomed their input and informed the couple's creative ideas with practical considerations around cost and feasibility.

After agreeing on a basic plan for the home's design, the couple opted to finalise decisions about interior finishes as the build progressed. This fluid and flexible approach made it an exciting project to work on for the whole Berecon team.

Midway through the build, Nick and Sophie decided on a powder-coated folded-steel staircase. While there was no doubt it would be a showstopping design feature, a staircase as big and heavy as that would usually have been installed before the rof went on, presenting a real challenge for the Berecon team. Rather than scupper the idea, however, Jeremy rose to the occasion, using a spider crane to manoeuvre the 1.2-ton steel staircase through the 800mm-wide doorway without a hitch. "That was exciting – I love that kind of thing!" Jeremy says.

Their creative alignment paid off. The finished home has an easy, flowing feel that was recently recognised a Master Builders Association of NSW, Northern Regions Excellence in Building Award for a medium-density dual occupancy project.

Most importantly, the home fits its family like a glove, thanks to playful details baked into the design. There's the built-in banquette in the living area, a nook under the stairs that's perfect for tea parties, a low bench that floats above the sunken lounge, and a second living area upstairs that the kids have already claimed as their own. Nick and Sophie, meanwhile, love spending time in the kitchen, soaking in the spa, and hosting friends in the sunken lounge room and terrace. These delighters were all about creating moments and memories for the family, Rachel explains. "They're growing and changing and they'll continue to grow and change in that space, and the design gives them the flexibility to do that," she says.

---
Project Specs
Award
Master Builders Assocation of NSW Northern Regions Excellence in Building Awards Winner – Medium Density Projects Dual Occupancy Over $1.9m

Location
Cabarita, Northern NSW



Collaborators
Architect: Rachel Norman
Joinery: Mosh
Furniture: Martin Johnston
Lights: Lights Lights Lights
Photographer: Andy Macpherson


Value
Duplex $2,600,000


Size
500m2